- Processes - Nitriding / Nitrocarburising - Annealing - Vacuum Heat Treatment - Sub Zero - Age Hardening
Fluidised Bed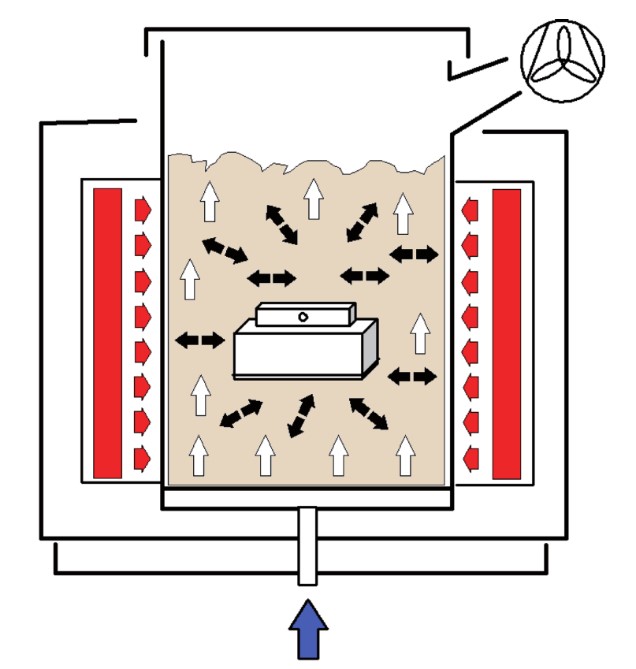 How do they work?
A fluidised bed consists of electrical heating elements surrounding a large vertical cylindrical retort filled with particulate. Gases are bubbled through the particulate from below at a controlled rate. When this is done, the particulate behaves much like a fluid, exhibiting various characteristics which give fluidised beds many advantages when heat treating:
Fast turnaround
In a fluidised bed all heat is transferred through a solid to solid contact, the most rapid method of heat transfer. This means that heat up, furnace recovery, and soak times are vastly reduced compared to conventional heat treatment.
Excellent temperature uniformity
The dynamic movement of the bed and rapid heat transfer generates temperature uniformity unrivalled by alternative heat treatment methods. A temperature span of ±2 °C is easily achieved, giving high quality, consistent heat treatment results.
Flexibility
The process gases in a fluidised bed can be completely changed very quickly if a furnace is required to perform a different heat treatment process. Air can be quickly changed to an inert gas such as nitrogen, or a process gases such as ammonia for nitriding without waiting for furnace purges or for the furnace to cool to room temperature. Allowing Beta to offer full range of heat treatment process with speedy lead times.
Minimal Distortion
Vertical suspension of components to be heat treated, such as mandrels, up to 1.65 metres in length, is attainable and this coupled with controlled cooling after quenching gives a distinct advantage in reducing distortion to minimum levels in components of this nature.